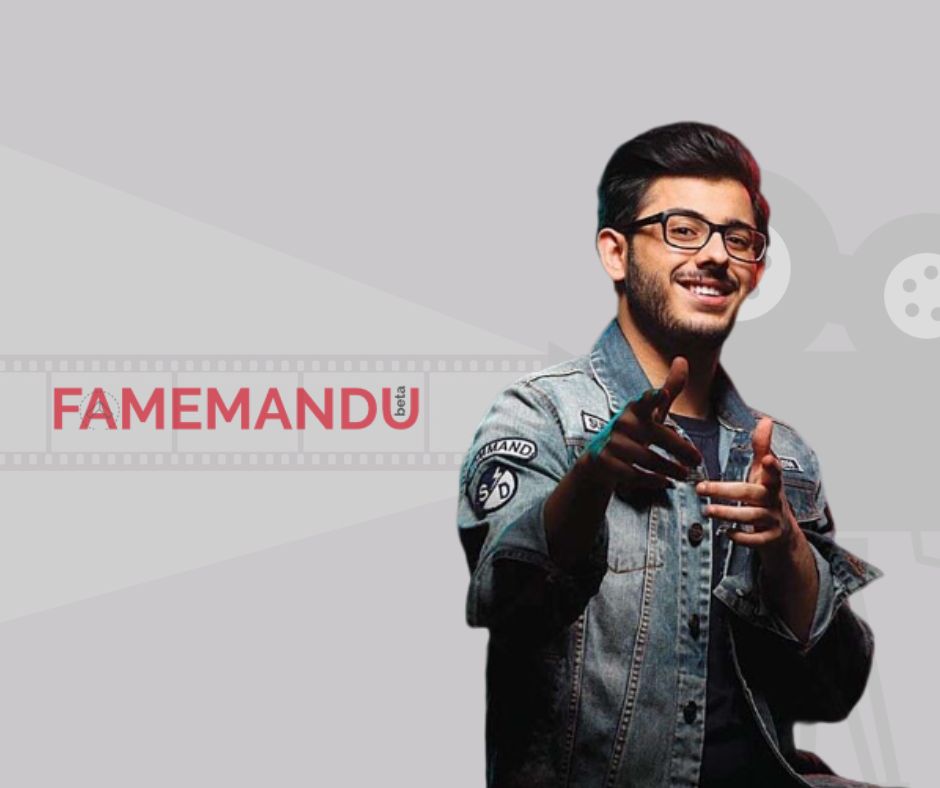 | | |
| --- | --- |
| Full Name | Ajey Nagar |
| Date of Birth | June 12, 1999 |
| Birthplace | Faridabad, Haryana, India |
| Age | 23 years |
| Nationality | Indian |
| Profession | YouTuber, Singer |
| Height | 5 ft 9 inches |
| Spouse | N/A |
| Net Worth | INR5 Million |
Biography
Ajey Nagar was on born 12 June 1999), popularly known as CarryMinati, is an Indian YouTuber and streamer from Faridabad, India. He is known for his roasting videos, comedic skits, and reactions to various online topics on his channel CarryMinati. His other channel CarryisLive is dedicated to gaming and live streams.
In May 2020, his roast video titled "YouTube vs TikTok – The End" caused controversy on YouTube India. The video was removed by YouTube for violations against the platform's terms of service, citing reasons such as cyberbullying and harassment.
Height & Weight
Ajey Nagar's height is 5 Feet 9 Inches (1.67 m), and his weight is 66 kg (144 lbs). His eye color is Black, and her hair color is Black.
Education
As of 2020, his age is 21 years. His zodiac sign is Gemini. He did his school education at DPS & also completed his graduation from Delhi.
Family
CarryMinati is from a well-knitted family and lives with his parents and elder brother Yash Nagar.
Career
Ajey Nagar is based in Faridabad, a city near India's national capital New Delhi. Popularly referred to as CarryMinati, Nagar is mainly involved in creating Hindi-language roasting and comedy videos, diss songs, and satirical parodies, apart from living gaming. Nagar and his team produce videos out of his home in Faridabad.
Nagar began posting videos on YouTube at the age of 10. His main YouTube channel has been active since 2014. In 2014, the channel's name was AddictedA1 and Nagar would upload recorded video game footage along with his reactions to the game. In 2015, he changed the channel's name to CarryDeol, uploading gameplay footage of Counter-Strike: Global Offensive while mimicking Sunny Deol. The channel was subsequently renamed to CarryMinati. In May 2021, Nagar released a statement saying that the channel had more than 30 million subscribers.
In early 2017, Nagar created an additional YouTube channel called CarryIsLive, where he live-streams himself playing video games. He has hosted live streams on this channel, raising funds for victims of cyclone Fani in Odisha in 2019, and the flooding in Assam and Bihar in 2020.
In 2019, Nagar was listed at the 10th position in the Next Generation Leaders' 2019 by Time magazine, which is an annual list of ten young people who construct innovative careers. In April 2020 he was part of Forbes 30 Under 30 Asia.
He had a cameo appearance as himself in the 2022 movie Runway 34.
Rumors/Controversy
Ajey Nagar's (carryminati) latest controversy was with Amir Siddiqui when he made a roasted video about him. Ajey's roasted video that breaks so many records was deleted by youtube India. Many other YouTubers like Harsh Beniwal, Mohit Chhikara, Ashish Chanchlani, etc supported him.
Net Worth
What are the earnings of Ajey Nagar (carryminati)? How much is his net worth and How rich is he in 2022? He has accumulated a huge amount of net worth from her successful career. However, Ajey Nagar's net worth is 5 Million Indian Rupees as of 2022 according to the source.
According to our analysis, Wikipedia, Forbes & Business Insider, Ajey Nagar's net worth is approximately 5 Million INR.
What does Net Worth mean? Net Worth is the measurement of financial health which indicates the value of an individual's or institution's financial and non-financial assets.
We heartily request you to contact us regarding the shortcomings you may find while visiting our site. Your feedback will be highly appreciated.