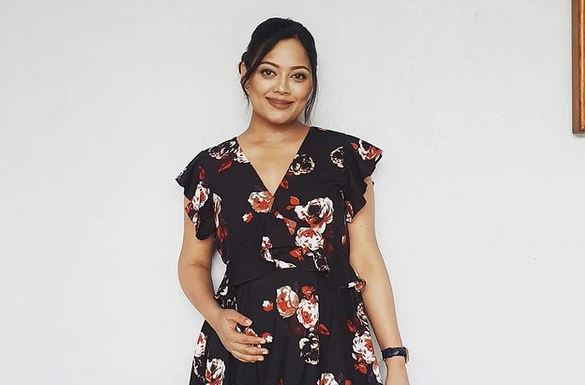 Follow Reecha Sharma:
Biography               
Reecha Sharma is an actress in Nepali Movies Industry. She was top ten finalist of Miss Nepal 2007. Sharma  is a model turned actress who debuted in Kollywood from First Love in 2010. Reecha had a passion for glamour world since her childhood days.
Height & Weight

Nepalese Actress Reecha Sharma is a beautiful woman with 1.63m height and a fit body figure.
Education
There is no known information about her education, Please check back soon for updates.
Husband and Marital life
Reecha Sharma married Dipekshya Bikram Rana on December, 2019. He is the manager of 'Labim Mall' in Lalitpur. They dated for two years before they were married. Previously, Reecha was in relationship with boyfriend Vinay Shrestha. She broke up with him after a long time relationship.
 Career
She was interested in modeling and fashion shows from her childhood. Then she participated in Miss Nepal beauty pageant.Reecha Sharma acting career started when she debuted as an actress in a 2010 movie, 'First Love'. After the success of her first movie she also acted in 'My Love Story', 'Highway', 'Loot' and 'Visa Girl'.  The 'Visa Girl' actress, Richa Sharma, is also appreciated for her roles in 'Uma' and 'Talakjung Vs Tulke'. Richa had also bagged a 'Best actress critics awards' for her role in 'Uma'. She also played Horror- thrilling movie 'Sunkesari'.
Reecha had to lose her father when she was children. To relieve pain, she started working for humanity as active member of the different organization. Richa also worked as the host of television shows 'Music of Your Choice' and 'Top Ten' in Image Channel and the next show, 'Superstar' in Nepal Television. She was highly praised for her role in the television show 'Hamro Team'.Also she worked as judge of comedy show 'Comedy Champion'.
Rumors/Controversy
There is no known information about it….
Net Worth
What is the earning of Reecha Sharma? How much is her net worth and How rich is she in 2021? She has accumulated a huge amount of net worth from her successful modeling career. However,Reecha Sharma net worth is not revealed as of 2021 according to our source.
Reecha Sharma Facts
Reecha was born on 17 July 1987 in Dhangadhi , Nepal.
Q&A
When was Reecha Sharma born?-17 July 1987
Who is the husband of Reecha Sharma?–  Deepekshya Bikram Rana                        

What is the nickname of Reecha Sharma?– Ree


What does Net Worth mean? Net Worth is the measurement of financial health which indicates the value of an individual's or institution's financial and non-financial assets.
We heartily request you to contact us regarding the shortcomings you may find while visiting our site. Your feedback will be highly appreciated.