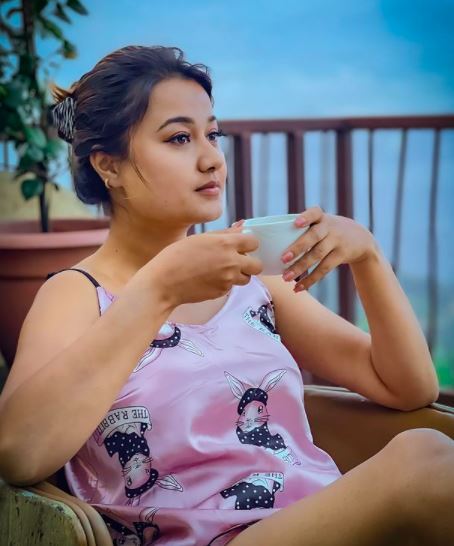 Follow Riyasha Dahal :
Biography               
Riyasha Dahal was born on22 July 1995 in Kathmandu Nepal. Riyasha Dahal is the most popular actress and model in Nepal. 

Height
Actress Riyasha Dahal is a beautiful woman with 5'4" height and  a fit body figure.
Education
Riyasha Dahal completed her schooling and high school education from Kathmandu. Riyasha has done Bachelor in Business Administration from Kantipur College of Management and Information Technology under Tribhuvan University.
Family
Her father's name is of Dipak Dahal and her mother's name is Niru Dahal.
Career
Riyasha Dahal was a very bright child since her childhood. She used to work for the different programs while studying in school. But Riyasha never thinks of becoming an actress. She started her career as a VJ in College Nepal. But she did not perform well as a VJ. Later she got an offer for the YouTube short film series" Aajkaal ko Love". After joining this series, her acting career started, This series became a turning point for her career. Now, Riyasha is one of the most popular actresses in Nepal.
Rumors/Controversy
There are no known Controversies and Rumors of Riyasha Dahal.
Net Worth
What is the earning of Riyasha Dahal? How much is her net worth and How rich is she in 2021? She has accumulated a huge amount of net worth from her successful career. However, Riyasha Dahal's net worth is not known as of 2021 according to our source.
Riyasha Dahal Facts
Riyasha Dahal was born on 22 July 1995 in Kathmandu , Nepal.
She never thought of becoming so much popular as an actress.
Riyasha has a beautiful voice and sings a song as well.
She started her acting career from the YouTube channel of College Nepal.
Acting, singing, dancing, shopping are the hobbies of Riyasha Dahal.
Q&A
When was Riyasha Dahal born? – 22 July 1995
Who is the husband of Riyasha Dahal? – N/A
What is the nickname of Riyasha Dahal? – Reeyu


What does Net Worth mean? Net Worth is the measurement of financial health which indicates the value of an individual's or institution's financial and non-financial assets.
We heartily request you to contact us regarding the shortcomings you may find while visiting our site. Your feedback will be highly appreciated.