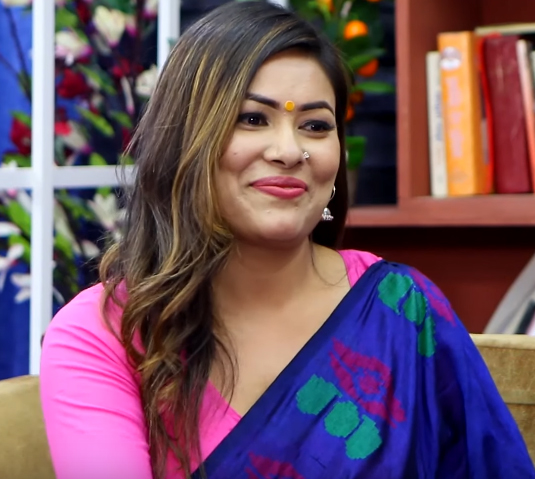 Follow Sunita Dulal:
Biography
Sunita Dulal was born on 1971 in Sindhulpalchok, Nepal. She a prominent Nepalese folk singer. She has been singing Nepali folk, festive to modern songs for the last ten years.
Height & Weight
Nepalese Sunita Dulal is a beautiful woman with tall height and a beautiful body figure.
Education
There are no known education details about Sunita Dulal.
Family
There are no known family details about Sunita Dulal.
Career
Sunita Dulal is a multitalented young Nepali woman. In addition to singing, Sunita Dulal also does acting, presents programs on NTV. A state television channel and modeling as well. Recently, she has released her 13th album Mero Hajur on the market which reflects to be another super hit Nepalese Teej Festive album of her. Teej festival normally falls from July to early September. Sunita Dulal has now released this year's Teej Album Nachau Sarara which is her 15th album including the songs" Teej Ko Ayo Lahara" and "Chuppa Moi Khaula". She also participated in Melancholy, an environmental song by 365 Nepalese artists in which break Guinness World Record entitled "Most Vocal Solos in a Song Recording" is written, music composed, and directed by Nipesh.
On 19 May 2016, Dulal recorded her solo part with her group at Radio Nepal studio and was officially released on 2 September 2017 by President Bidya Devi Bhandari at Army Officer's Club, Kathmandu. She has recorded more than 100 Nepali Folk songs. She has been brought up in a musically nurtured family.
Rumors/Controversy
There are no known controversies about Sunita Dulal.
Net Worth
Nepalese Singer Sunita Dulal Net Worth is not revealed as of 2021 according to our source.
Sunita Dulal

Facts
Sunita Dulal

was born on 28th November 1971.
Q&A
When was

Sunita Dulal

born?
– 28th November 1971

Who is the husband of

Sunita Dulal

?
– N/A
What is the nickname of

Sunita Dulal

?
– N/A

What does Net Worth mean? Net Worth is the measurement of financial health which indicates the value of an individual's or institution's financial and non-financial assets.
We heartily request you to contact us regarding our shortcomings you may find while visiting our site. Your feedback will be highly appreciated.