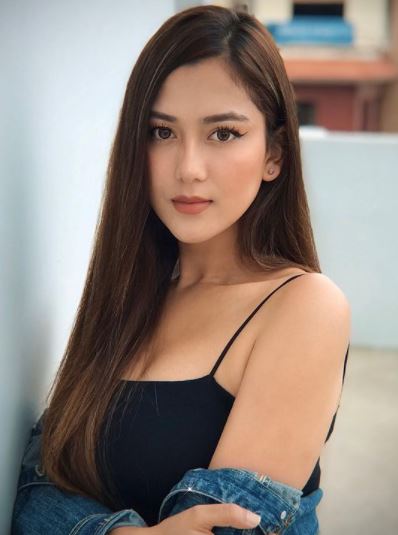 Follow Upasana Singh Thakuri:
Biography
Upasana Singh Thakuri is a beautiful actress and model in the Nepali Movie industry.
Height & Weight
Nepalese Actress Upasana Singh Thakuri is a beautiful girl with a tall 5′ 7" and fit body figure. Her weight is around 55kg.
Education
As she was born at Darchula she completed her LKG schooling from Darchula. Then she was brought to Kathmandu where she continued her schooling. She finished her schooling from Kathmandu and is currently studying Bachelor in Ace Institute of Management.
Family
Upasana Singh Thakuri was born on September 20, 1998, in Darchula district of Nepal. Currently, she lives in Kathmandu, Nepal. There are altogether five members in her family. They are her mother, father, and 2 sisters and she herself. Her father is a retired army whereas her mother is a housewife.
Career
As of the passion she wanted to be an Army Officer just like her father. But as per the luck of the draw, she became a very beautiful Nepali actress. Her first movie was The Captain where she played opposite Anmol KC. Both producer Bhuwan K.C and director Diwakar Bhattrai were searching for two actresses for the movie and found a beautiful lady Upasana Singh. Then without delaying they called her for an audition. Looking at her audition, they were mesmerized by her acting skills and talent. They immediately took as a lead actress for their movie and now the movie Captain has been one of the best movies in 2019.                                                                                                                                                                            
Rumors/Controversy
There are no known controversies about Upasana Singh Thakuri.
Net Worth
Nepalese  Actress Upasana Singh Thakuri Net Wort is  not know  as of 2021 according to source .
Upasana Singh Thakuri Facts
Upasana Singh Thakuri was born on September 20, 1998 in Darchula ,Nepal.

Upasana Singh is an Introvert type of person.
She likes to spend her spare time traveling, listening to music and hang out with friends.
She never misses the movies of Dayahang Rai, Saugat Malla, Anmol KC.
As per the information, she is quitting her movie career and focusing on her studies. But she is planning to continue her movie career in the future and she expresses her willingness to work with a big banner in the future.                    
Q&A
When was Upasana Singh Thakuri born? -September 20, 1998
Who is the Husband of Upasana Singh Thakuri? -N/A
What is the nickname of Upasana Singh Thakuri?- Sukee,Poo,Ushu
What does Net Worth mean? Net Worth is the measurement of financial health which indicates the value of an individual's or institution's financial and non-financial assets.
We heartily request you to contact us regarding the shortcomings you may find while visiting our site. Your feedback will be highly appreciated.