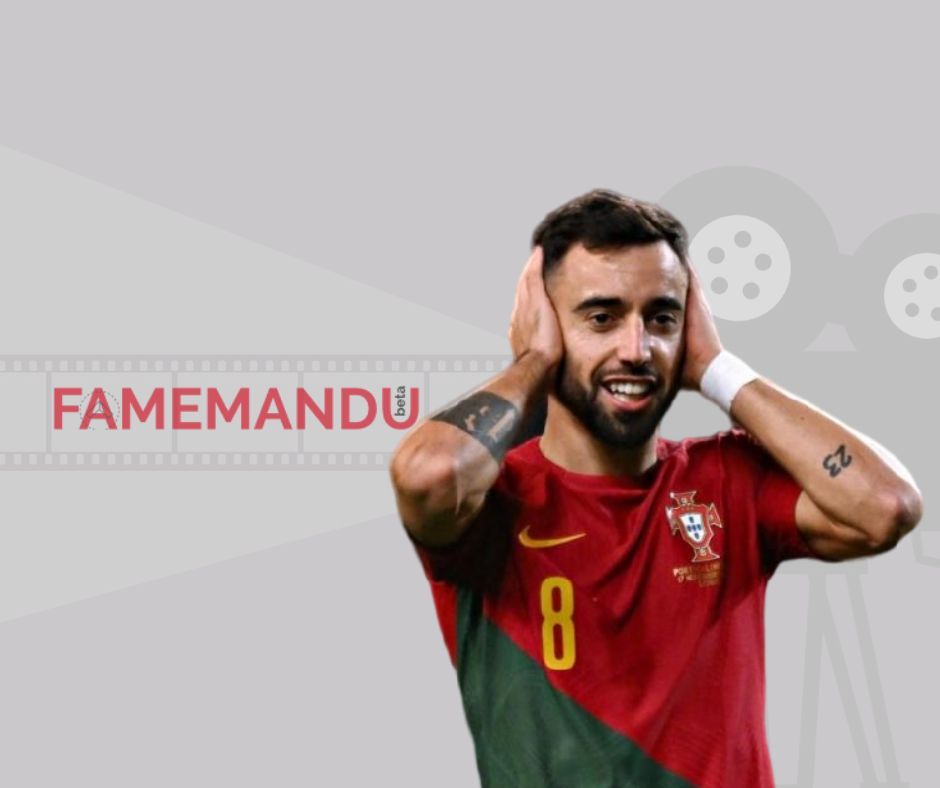 Follow
Quick Facts
| | |
| --- | --- |
| Full Name | Bruno Miguel Borges Fernandes |
| Date of Birth | September 8, 1994 |
| Birthplace | Maia, Portugal |
| Age | 29 |
| Nationality | Portuguese |
| Profession | Footballer |
| Height | 6 feet (1.83 m) |
| Spouse | Ana Pinho |
| Net Worth | $30 million |
Biography
Bruno Fernandes, is a professional footballer who plays as an attacking midfielder for Premier League club Manchester United and the Portugal national team. He was born on September 8, 1994, in Maia, Portugal. He is known for his passing ability, technical skills, vision, and goal-scoring ability. He has established himself as an integral part of the Manchester United squad, contributing to their success in domestic and international competitions.
Bruno made his senior international debut in 2017 for Portugal national team and has since become an integral part of the Portuguese squad. He has showcased his exceptional playmaking skills, scoring goals, providing assists, and dictating the tempo of matches. His performances have earned him numerous accolades, including multiple Premier League Player of the Month awards.
Height & Weight
Bruno Fernandes is a strikingly handsome man with a height of approximately 1.83m, and a weight of around 65 kilograms.
Whether it's his physical features or his charismatic personality, Bruno Fernandes exudes a natural charm that is truly captivating.
Education
Regarding his education, information about Bruno's schooling or any further academic pursuits beyond his football career is not widely available. Given his early entry into professional football, it is possible that his education might have been primarily focused on his football development.
Family
Unfortunately, specific details about Bruno Fernandes' parents are not widely known or publicly available.
Bruno Fernandes is married with his longtime girlfriend, Ana Pinho, in 2015. They have been in a relationship since their teenage years. Bruno and Ana have two children together, a daughter named Matilde and a son named Gonçalo.
Career
Bruno's professional football career has been primarily associated with Manchester United and the Portugal national team.
Bruno Fernandes started his youth career at Boavista in Portugal before moving to Infesta and then to Pasteleira. He eventually joined the youth academy of the Italian club Novara in 2009. He progressed through their ranks and made his professional debut for Novara's first team in the 2012-2013 season. After his time at Novara, Fernandes moved to Udinese in 2013. He spent two seasons with Udinese, where he gained valuable experience in Serie A. In 2016, he was loaned to Sampdoria, another Italian club, where he showcased his skills as an attacking midfielder.
In the summer of 2017, Fernandes transferred to Sporting CP in Portugal. This move proved to be pivotal in his career. He quickly became a key player for Sporting CP, exhibiting his excellent technique, vision, and goal-scoring ability. During his time at Sporting CP, Fernandes made over 100 appearances, scored numerous goals, and provided countless assists. He played a crucial role in helping the team win the Taça de Portugal (Portuguese Cup) in the 2018-2019 season.
In January 2020, Bruno Fernandes completed a high-profile transfer to Manchester United in the English Premier League. The move marked a significant step in his career. Despite joining midway through the season, Fernandes had an immediate impact on the team. He quickly established himself as one of the key players for Manchester United, bringing creativity, goal-scoring prowess, and leadership to the squad. During his time at Manchester United, Bruno Fernandes has achieved notable success. In the 2020-2021 season, he played a vital role in helping the team finish as runners-up in the Premier League and reach the UEFA Europa League final. Individually, he has received several awards and recognitions, including multiple Premier League Player of the Month honors. Manchester United is FA Cup Runner up in 2022/23. He has also been a key contributor to the team's success in domestic competitions.
Bruno Fernandes has represented the Portuguese national team at various levels. He made his senior international debut in 2017 and has since become a regular fixture in the squad. He has participated in tournaments such as the UEFA Nations League and the UEFA European Championship, contributing to the success of the national team.
Overall, Bruno Fernandes' professional career has been marked by his impressive performances, versatility, and impact on the teams he has played for. His skill set and contributions have made him one of the highly regarded midfielders in the world of football.
Rumors/ Controversy
Bruno Fernandes, the talented Portugal footballer, has garnered significant attention for his remarkable sporting achievements, with no controversies overshadowing his career. Known for his passing ability, vision, creativity, and penalty technique, Fernandes has emerged as a respected figure in the world of football, admired for his sportsmanship and dedication to the game. There is no controversy associated with Bruno Fernandes.
Net Worth
What are the earnings of Bruno Fernandes?
How much is Bruno Fernandes net worth and how rich is he in 2023/24?
In 2023/24, Bruno Fernandes, known for his highly successful career, has amassed a significant net worth. However, as of the latest available information, his exact net worth remains around $30 million. This intriguing development has generated considerable interest and curiosity among those following his financial journey. As the year unfolds, many are eagerly anticipating updates on the true extent of Bruno Fernandes's wealth, as he continues to make waves in his respective field. Stay tuned for the latest updates on this captivating financial story.
What does Net Worth mean? Net Worth is the measurement of financial health which indicates the value of an individual's or institution's financial and non-financial assets.
We heartily request you to contact us regarding the shortcomings you may find while visiting our site. Your feedback will be highly appreciated.