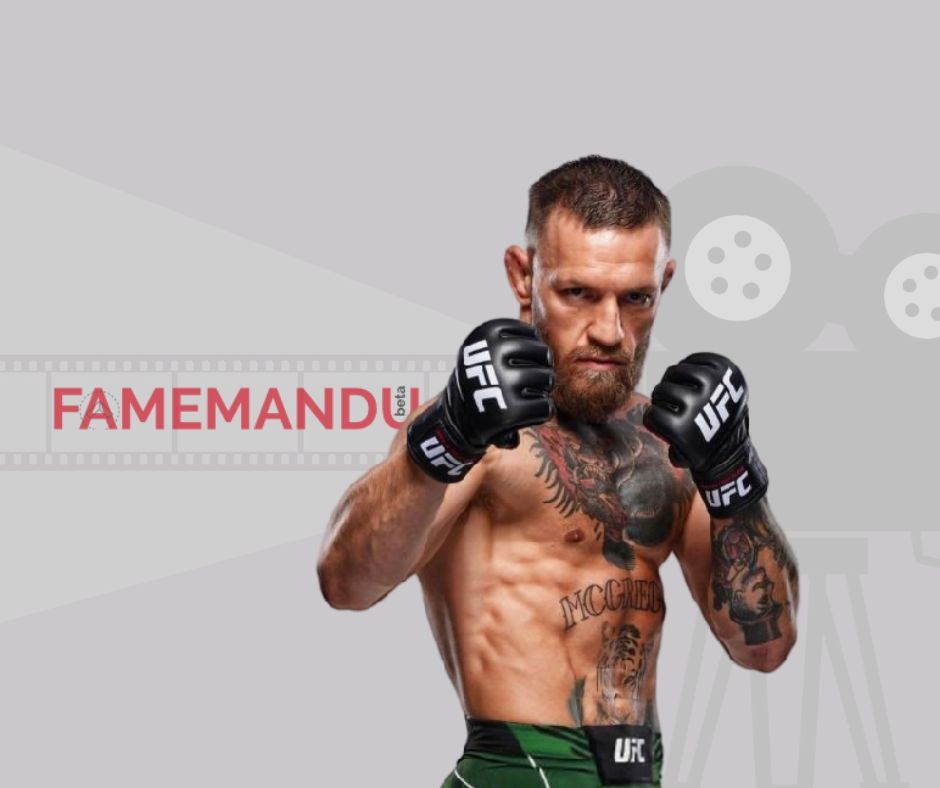 Follow
Quick Facts
| | |
| --- | --- |
| Full Name | Conor Anthony McGregor |
| Date of Birth | 14 July 1988 |
| Birthplace | Dublin, Ireland |
| Age | 36 |
| Nationality | Irish |
| Profession | Boxer & Martial artist |
| Height | 5 ft 9 inch |
| Spouse | Dee Devlin |
| Net Worth | $200 million |
Biography
Conor McGregor is a renowned former professional mixed martial artist and boxer from Ireland. He was born on July 14, 1988, in Dublin, Ireland. He gained widespread recognition and popularity for his success in the Ultimate Fighting Championship (UFC) and his charismatic personality. He grew up in the Crumlin neighborhood and began training in various combat sports at an early age.
His striking skills, particularly his precision striking and knockout power, have been a hallmark of his fighting style. With his brash confidence and unapologetic charisma, McGregor became a masterful promoter of his own fights, captivating audiences around the globe. He is a masterful self-promoter who knows how to engage the media and draw attention to his fights.
Height & Weight
McGregor is known for his athletic and muscular build, which he maintains through intensive training for mixed martial arts. His height is around 5 ft 9 in (175 cm), and his weight is around 156 lb (71 kg).
He has several tattoos on his body, including a gorilla on his chest and a tiger on his stomach, among others.
Education
McGregor attended Gaelscoil and Gaelcholáiste in Crumlin, Dublin, where he received his primary and secondary education. He has mentioned in interviews that he was not particularly focused on academics and instead had a strong interest in sports, especially combat sports.
Family
Conor McGregor's parents are Tony and Margaret McGregor. He has two sisters, Erin and Aoife McGregor.
Career
Conor McGregor's professional life and career have been marked by his remarkable achievements in mixed martial arts (MMA) and his larger-than-life persona.
Early Career and Rise:
Conor McGregor made his professional MMA debut in March 2008. He fought in various promotions in Ireland and the United Kingdom, building a reputation for his striking abilities and confident demeanor.
McGregor's performances garnered attention, and he quickly gained a following for his entertaining fighting style and trash-talking skills.
UFC Debut and Featherweight Title:
McGregor signed with the Ultimate Fighting Championship (UFC) in 2013.
He made his UFC debut in April 2013, winning a "Knockout of the Night" bonus for his performance.
McGregor's charisma and promotional skills quickly endeared him to fans, and he continued to accumulate wins in the Featherweight division.
Fastest UFC Title Victory:
On December 12, 2015, McGregor faced José Aldo for the UFC Featherweight Championship. He famously knocked out Aldo in just 13 seconds, setting a record for the fastest title victory in UFC history.
This victory earned McGregor the Featherweight Championship belt.
Champion-Champ:
In November 2016, McGregor moved up to the Lightweight division and faced Eddie Alvarez for the UFC Lightweight Championship.
McGregor's victory over Alvarez made him the first fighter in UFC history to simultaneously hold titles in two weight classes: Featherweight and Lightweight.
Hiatus and Boxing Bout:
McGregor took a break from MMA and focused on a high-profile boxing match against Floyd Mayweather Jr. in August 2017.
Despite losing the boxing match, McGregor's crossover bout garnered massive attention and financial success.
Legacy and Impact:
McGregor's impact on MMA and combat sports is significant. His charismatic personality, promotional skills, and fighting prowess helped elevate the sport's popularity to new heights.
He is known for his record-breaking pay-per-view numbers and his ability to generate massive fan interest in his fights.
Business Ventures:
McGregor launched his own clothing line and introduced Proper No. Twelve, a brand of Irish whiskey.
Rumors/ Controversy
McGregor returned to MMA in October 2018, facing Khabib Nurmagomedov for the UFC Lightweight Championship. The build-up to the fight was marred by controversies and a highly publicized incident involving McGregor attacking a bus carrying other fighters.
McGregor has faced legal challenges beyond the bus incident. These include a 2019 altercation in a Dublin pub, where he was caught on video punching a patron, and a 2020 incident in which he was accused of sexual assault in Corsica. He denied the allegations, and no charges were filed.
Net Worth
What are the earnings of Conor McGregor?
How much is Conor McGregor net worth and how rich is he in 2023?
In 2023, Conor McGregor, known for his highly successful career, has amassed a significant net worth. However, as of the latest available information, his exact net worth remains around $200 million. This intriguing development has generated considerable interest and curiosity among those following his financial journey. As the year unfolds, many are eagerly anticipating updates on the true extent of Conor McGregor's wealth, as he continues to make waves in his respective field. Stay tuned for the latest updates on this captivating financial story.
What does Net Worth mean? Net Worth is the measurement of financial health which indicates the value of an individual's or institution's financial and non-financial assets.
We heartily request you to contact us regarding the shortcomings you may find while visiting our site. Your feedback will be highly appreciated.