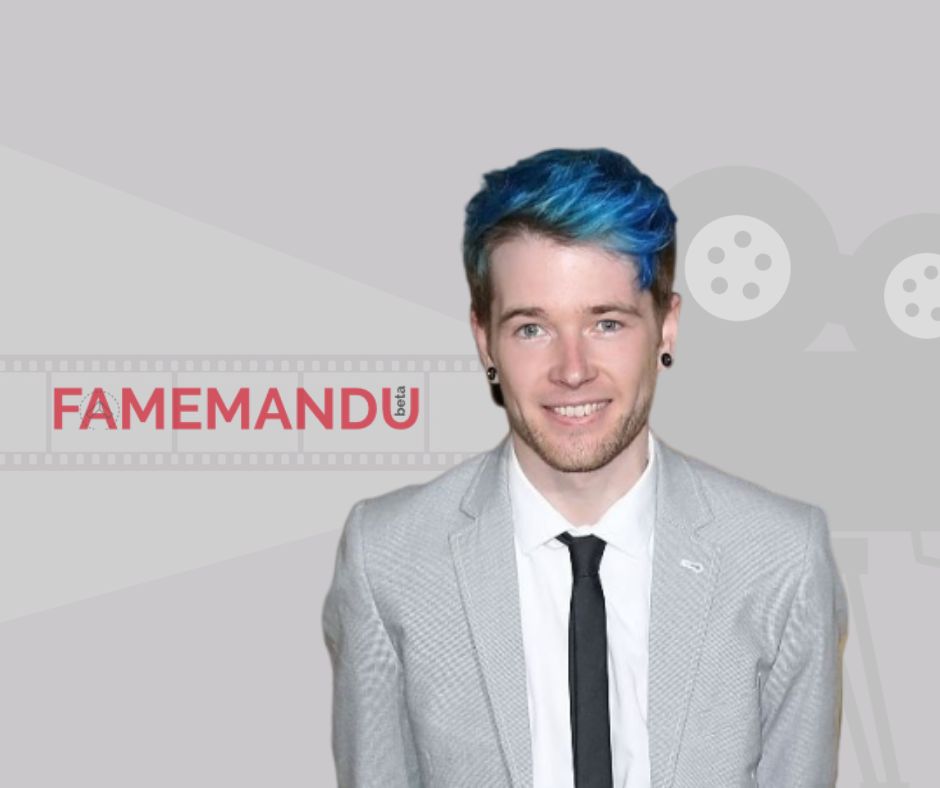 | | |
| --- | --- |
| Full Name | Daniel Robert Middleton |
| Date of Birth | 8 November 1991 |
| Birthplace | Aldershot, England |
| Age | 30 years |
| Nationality | British |
| Profession | YouTuber |
| Height | 5 ft 6 inches |
| Spouse | Jemma Middleton |
| Net Worth | $40 Million |
Biography
Daniel Robert Middleton (born 8 November 1991), better known online as DanTDM (formerly TheDiamondMinecart), is a British YouTuber and gamer known for his video game commentaries. His online video channels have covered many video games including Minecraft, Roblox, and Pokemon.
His channel has been listed among the top YouTube channels in the United Kingdom. In July 2015, he was listed as one of the most popular YouTubers in the world by viewership. 
He has won several Kids' Choice Awards and set Guinness World Records for his gaming and presentation. In 2017, Middleton topped the Forbes list of Highest-Paid YouTube Stars, earning $16.5 million (about GB£12.2 million) in one year. As of May 2022, his YouTube channel has reached over 26.1 million subscribers, and 18.6 billion video views and has posted over 3,500 videos.
Height & Weight
He is 5′ 6″ in feet and inches and 168 cm in Centimetres tall, he weighs about 130 lbs in Pound and 56kg in Kilograms.
Education
While growing up, he often shifted schools due to his father's army job and by the age of 10, he had studied at 10 different schools.
After completing his school education, he got admission to Northampton University.
Family
His full name is Daniel Middleton. His parents divorced when he was a child. Robert is the name of his brother. His brother introduced him to Minecraft. He married Jemma Middleton, AKA JemPlaysMC, in 2013. He and Jemma welcomed a son named Asher in January 2020. 
Career
In 2012, Middleton created TheDiamondMinecart, a gaming channel. He changed his channel's name into TheDiamondMinecart // DanTDM, and then, on 12 December 2016, to DanTDM. He currently produces videos out of his home studio in Wellingborough. Middleton's content is largely targeted at children.
He released a graphic novel called Trayaurus and the Enchanted Crystal on 6 October 2016. The novel remained at the number one spot on The New York Times Best Seller list for hardcover graphic books for eleven weeks. He was a featured guest at the Cheltenham Literature Festival and went on a book tour that included parts of the UK and a visit to New York City. In 2017, he embarked on a tour through the United States and Australia.
In 2017, he starred in a web series called DanTDM Creates a Big Scene starring himself and featuring other social media entertainers and actors. The series premiered on 7 April 2017 exclusively for YouTube Red, YouTube's subscription service. The show "follows DanTDM and his group of animated friends as they battle to keep their live show on the road". and ran for six episodes.
In 2019, Middleton ranked 41 on UK's Top 100 Influencer List by The Sunday Times, which also estimated Middleton's net worth to be £25 million. His online video channel originally focused primarily on the popular game Minecraft; as of January 2020, he has allocated part of his channel to playing random video games, community Discord challenges, and reaction videos. Middleton also used to maintain a Minecraft Hardcore series which was a substantial part of his channel, until he died within the game.
On 11 Jan 2020, Middleton started a new channel called DanTDM Live dedicated to archives of his streams, although it has also been used for videos of miscellaneous games which wouldn't fit on his main channel.
On 24 March 2021, Middleton started a channel dedicated to Minecraft videos under 5 minutes, called DanTDM Short
Rumors/Controversy
Middleton named his villager DanTDM and his island Diamond. Middleton's Animal Crossing: New Horizons series received controversy for being over-saturated, streaming the game 5 streams in a row, and uploading the game 9 VODS in a row on DanTDM Live
Net Worth
What are the earnings of DanTDM? How much is his net worth and How rich is he in 2022? He has accumulated a huge amount of net worth from his successful career. However, Daniel Robert Middleton's net worth is 40 Million Indian Rupees as of 2022 according to the source.
According to our analysis, Wikipedia, Forbes & Business Insider, Daniel Robert Middleton(DanTDM)'s net worth is approximately 40 Million INR.
What does Net Worth mean? Net Worth is the measurement of financial health which indicates the value of an individual's or institution's financial and non-financial assets.
We heartily request you to contact us regarding the shortcomings you may find while visiting our site. Your feedback will be highly appreciated.