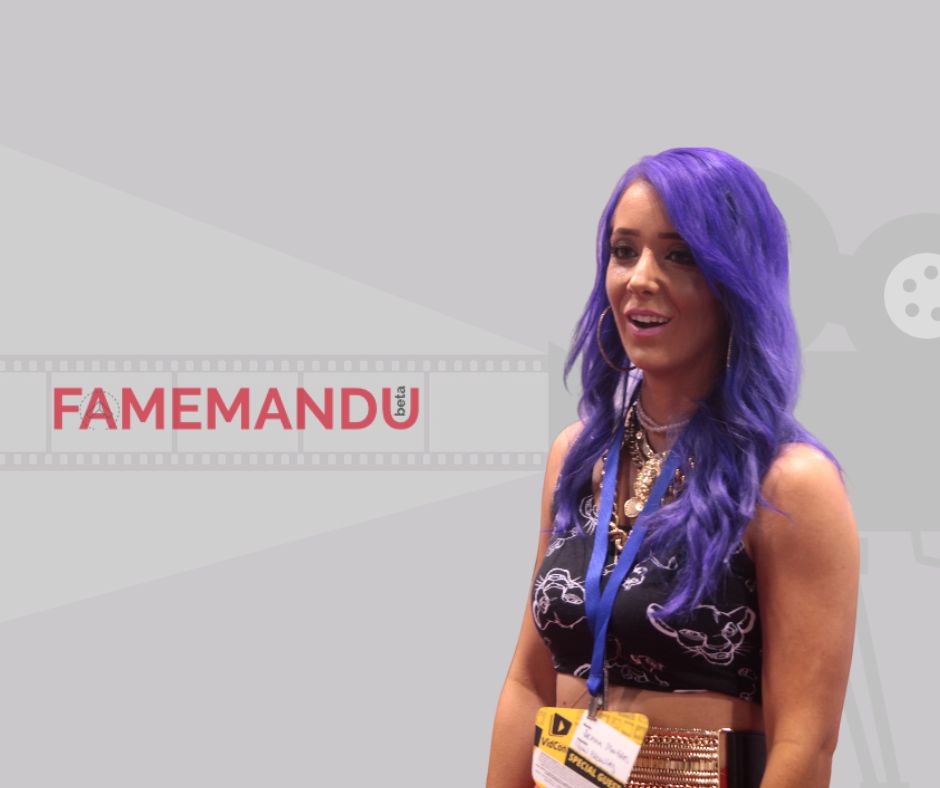 | | |
| --- | --- |
| Full Name | Jenna Nicole Mourey |
| Date of Birth | September 15, 1986 |
| Birthplace | Rochester, New York |
| Age | 35 years |
| Nationality | American |
| Profession | Youtuber |
| Height | 5 ft 6 inches |
| Spouse | Julien Solomita |
| Net Worth | $9 million |
Biography
Jenna Nicole Mourey (born September 15, 1986), better known by her pseudonym Jenna Marbles, is an American former YouTuber.
Over the span of ten years, her YouTube channel has accumulated approximately 1.7 billion video views and over 19 million subscribers. Jenna Marbles is is an American YouTube personality, vlogger, comedian, and actress.
Height & Weight
Jenna Marbles is a beautiful and bold-looking lady with a slim and hourglass-like body physique. She stands 5 ft 6 inches tall and weighs 49 Kg.
Education
Mourey was born and raised in Rochester, New York. She then moved to Boston, Massachusetts, where she earned a Bachelor of Science in psychology at Suffolk University and a Master of Education in sports psychology and counseling at Boston University.
Family
She broke up with her longtime boyfriend Max Weisz in 2012. She then began dating Julien Solomita; the couple got engaged in 2021. Her mother Deborah Mourey often helps her out with business-related issues. She has a pet chihuahua named Mr. Marbles.
Career
Among the first of Mourey's videos to gain traction on the platform, "How to Trick People into Thinking You're Good Looking", released in 2010, was viewed over 5.3 million times in its first week. Her video "How to Avoid Talking to People You Don't Want to Talk To" was featured in The New York Times and ABC News in August 2011. In the video, she said, "I'm sick and tired of guys thinking that just because I showed up at a club or a dance or a bar that I want to have their genitalia touching my backside."
Mourey adopted the pseudonym Jenna Marbles after her mother complained the search term "Mourey" resulted only in Jenna's videos on Google. Jenna's mother was unemployed when Jenna's first video went viral and was concerned that the content might put off potential employers. The name "Marbles" stems from her dog's name, Mr. Marbles.
Mourey portrayed Eve in the Epic Rap Battles of History episode "Adam vs. Eve", and she made appearances in The Annoying Orange, Ridiculousness, and Smosh: The Movie. Mourey was featured in the rapper Pitbull's "Fireball" music video alongside fellow YouTubers Bart Baker and Brittany Furlan.
Alongside the creators of the YouTube channel Smosh, Mourey became the first YouTube personality to have her likeness appear as a wax figure displayed at Madame Tussauds New York, which she unveiled in 2015.
Rumors/Controversy
On June 25, 2020, Mourey uploaded an apology video following accusations of blackface, racism, and slut-shaming. In this video, she addresses offensive content in her videos posted between 2011 and 2012, such as an impersonation of Nicki Minaj featuring her wearing dark facial makeup, rapping anti-Asian slander while wearing traditional Asian clothing, and slut-shaming women who had slept with multiple people. Mourey states it was never her intention to hurt or offend anyone, acknowledging that these actions were "shameful" and "awful," wishing "it wasn't part of [her] past." She followed up these remarks by informing her viewers of her indefinite hiatus from her YouTube channel. On June 26, Mourey's boyfriend, Julien Solomita, announced on Twitter that the couple's joint podcast and Twitch streams would be put on indefinite hiatus.
Net Worth
What are the earnings of Jenna Marbles? How much is her net worth and How rich is she in 2022? She has accumulated a huge amount of net worth from her successful career. However, Jenna Marbles's net worth is $9 Million as of 2022 according to the source.
What does Net Worth mean? Net Worth is the measurement of financial health which indicates the value of an individual's or institution's financial and non-financial assets.
We heartily request you to contact us regarding the shortcomings you may find while visiting our site. Your feedback will be highly appreciated.