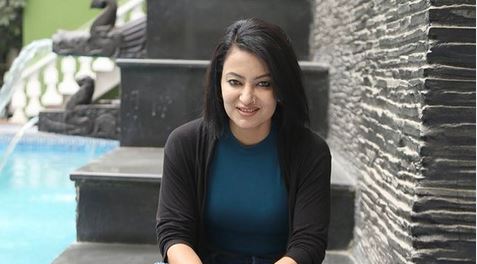 Follow Jharna Thapa:
Biography
Jharana Thapa was born on March 28, 1980. She is a Nepalese film actress, film producer, and film director. Thapa won the Fem Botanica KTV Film Awards in 2008 and KTV Film Award in 2009.
Height & Weight

Actress Jharna Thapa is a beautiful woman with a 5'3" height and a fit body figure.
Education
Jharna completed her high school studies at Mahendra Multiple Campus, Dang'.However, she studied bachelor's degree in Arts (B.A.) from P.K. Campus Kathmandu.
Family
Jharna married Sunil Kumar Thapa in 1998 and they have one daughter whose name is Suhana Thapa.
Career
Jharna Thapa started her Nepali film industry in Daijo (1996). She played the leading lady role in numerous movies. Thapa received critical acclaim for her breakout role in the 1998 movie Dharam Sankat. After working in Nepali cinema for 20 years, she turned into a film director. Her debut directorial movie A Mero Hajur 2 was released in September 2017.
Rumors/Controversy
There are no known controversies about Jharna Thapa.
Net Worth
What is the earning of JharnaThapa? How much is her net worth and How rich is she in 2021? She has accumulated a huge amount of net worth from her successful modeling career. However, Jharna Thapa's net worth is not revealed as of 2021 according to our source.
Jharna Thapa Facts
 JharnaThapa was born on March 28, 1980.

Thapa won the

Fem Botanica KTV Film Award.
Q&A
When was Jharna Thapa born?
–

March 28, 1980

Who is the husband of Jharna Thapa?                                                                                                               
–  Sunil Kumar Thapa                                                                                                       
What is the nickname of Jharna Thapa?
– N/A
What is Jharna Thapa's ethnicity?
– Asian
How tall is Jharna Thapa?
-5′ 5″ (165 cm)

What does Net Worth mean? Net Worth is the measurement of financial health which indicates the value of an individual's or institution's financial and non-financial assets.
We heartily request you to contact us regarding the shortcomings you may find while visiting our site. Your feedback will be highly appreciated.