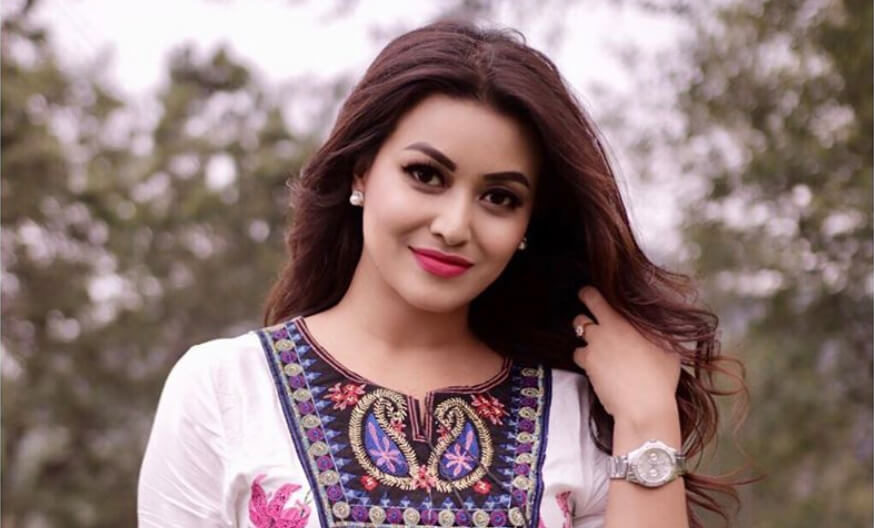 Biography
Malina Joshi was born on January 27,1989 in Dharan, Nepal. She is a Model and Actress. She represented our country in Miss World contest and performed Nepali folk dance in competition. She has hosted a show on the Himalayan Television .
Height & Weight

Nepalese Actress Malina Joshi is a beautiful woman with a tall height and fit body figure.
Education
She did her Schooling from Vijayapur Higher Secondary School Dharan , Nepal and Dharan Higher Secondary School ,Nepal. And , she completed her MBA in Marketing from Ace Institute of Management, Baneswar , Nepal.
Family
She was born on Brahmin Nepali Family. Her father's name is Madhav Prasad Joshi, and her mother's name is Mina Joshi. She has two siblings, one brother, Suraz Joshi and sister, Nukina Joshi.
Career
Malina Joshi is a Nepali Film actress and Model. She started her career as a model, and she participated in various local beauty Pageants. She was among the Top 5 contestants in the Miss Angel beauty contest in 2010. She participated in Miss Nepal 2011 and Won the title. Her career completely change after, she Won Miss Nepal in 2011 and she started her career as an actor in 2014.

Rumors/Controversy
There are no known controversies about Malina Joshi.
Net Worth
Her net worth is huge. Nepalese Actress Malina Joshi Net Worth is $5 million dollars according to our source.
Malina Joshi Facts
Malina Joshi was born on January 27, 1989, in Dharan, Nepal.
She has featured on the cover of many renowned magazines.
She has Walked the ramp at various events.
She has hosted a show on Himalayan Television, where the love of couples was discussed.
She has been associated with various social welfare activities.
Q&A
When was Malina Joshi born?
-January 27, 1989

Who is the husband of Malina Joshi?
– N/A
What is the nickname of Malina Joshi?
– N/A

What does Net Worth mean? Net Worth is the measurement of financial health which indicates the value of an individual's or institution's financial and non-financial assets.
We heartily request you to contact us regarding the shortcomings you may find while visiting our site. Your feedback will be highly appreciated.