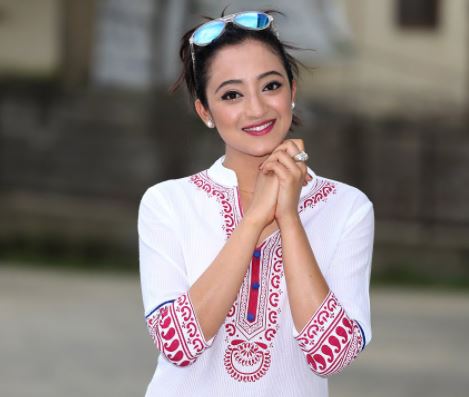 Follow Mariska Pokharel:
Biography
Mariska Pokharel is a very talented, beautiful and trending actress of the Nepalese Movie industry. Her recent appearance in the blockbuster Nepali Folk song 'Salko Pat' made her even more famous. Her most viewed music videos on YouTube include 'Salko Paat' and 'Shirphool'. She is an active member of the Rotary Club of Baneshwor.
Height & Weight
Nepalese Actress Mariska Pokharel is a beautiful girl with a tall height 5 feet 5 inch and fit body figure. Her weight is around 55kg.
Family
Her parents stay there in Chitwan. She spent her childhood from her hometown with her parents and friends.
Education
Mariska completed her schooling and plus two education in Nepal. Then after she moved to Japan for further studies. She completed her bachelor education from Japan. Due to her mother health condition, she backed to Nepal.
Career
Mariska started her modeling career after participating in Blenders pride fashion show 2014. She started being the cover of some popular magazines. Also, she participated in different model show and ramp walks, she has progressed a lot in the modeling sector. Before appearing in Nepali movies, Marishka was featured in an upcoming Hindi drama movie 'Yaara'. Her role in the movie is short. She debuted in the Nepali movie industry from the movie 'Ke Ma Timro Hoina Ra'. The movie produced and directed by Aakash Adhikari features new actors Mariska and Aryan Adhikari in the leading roles. Her debuted movie became a blockbuster of the year. After this movie, she got a chance to play in the second sequel of another blockbuster movie of Nepali film industry Chapali Height.
Rumors/Controversy
There are no known controversies about Mariska Pokharel.
Net Worth
Nepalese Actress Mariska Pokharel Net Wort is around $10 million as of 2021 according to source .
Mariska Pokharel Facts
Mariska Pokharel was born on 2 August 1996 in Birgunj, Nepal.

Mariska Pokharel has got the Black belt in taekwondo.
Mariska loves to write a poem and reading books.
Pokharel is an adventure lover like bungee jumping, skydiving, riding bikes, etc.
She also worked as a teacher.
Mariska also working for the children's right.
Q&A
When was Mariska Pokharel born? – 2 August 1996
Who is the Husband of Mariska Pokharel? -Satya
What does Net Worth mean? Net Worth is the measurement of financial health which indicates the value of an individual's or institution's financial and non-financial assets.
We heartily request you to contact us regarding the shortcomings you may find while visiting our site. Your feedback will be highly appreciated.