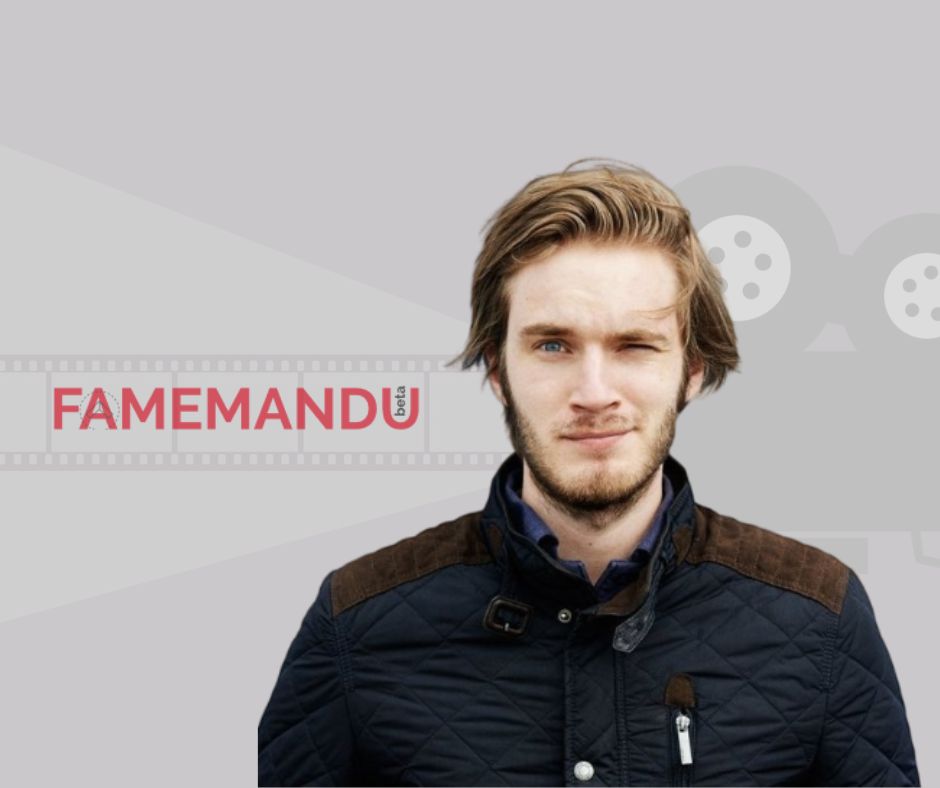 | | |
| --- | --- |
| Full Name | Felix Arvid Ulf Kjellberg |
| Date of Birth | October 24th, 1989 |
| Birthplace | Gothenburg, Sweden |
| Age | 32 years |
| Nationality | Swedish |
| Profession | YouTuber |
| Height | 5ft 11 inches (1.80 m) |
| Spouse | Marzia Bisognin |
| Net Worth | $52 Million |
Biography
Felix Arvid Ulf Kjellberg popularly known as PewDiePie is a Swedish YouTuber and Comedian. PewDiePie is popular for his Let's Play videos and comedic formatted shows. He was born in Gothenburg, Sweden but currently lives in Brighton, England.
Felix Arvid Ulf Kjellberg was born on 24 October 1989 in Gothenburg, Sweden where he was also raised.
Being a well-known YouTuber, he is also the highest-paid one from brands as well as on YouTube. He started his YouTube channel in the year 2010 and within 2 years, in 2012 it became the growing channel and a year later the most subscribed YouTube Channel.
Height & Weight
PewDiePie's height is 5 feet 11 inches (1.80 m), and his weight is 75 kg (154 lbs). His eye color is Blue, and his hair color is Blond.
Education
During his childhood, Kjellberg was interested in art and has detailed that he would draw popular video game characters such as Mario and Sonic the Hedgehog, as well as play video games on his Super Nintendo Entertainment System, such as Star Fox and Donkey Kong Country 2: Diddy's Kong Quest. During high school, he frequently played video games in his bedroom and would skip classes to play video games at an Internet café with friends.
During his last year of high school, he bought a computer with the money he made selling artwork through his grandmother's gallery. Kjellberg then went on to pursue a degree in industrial economics and technology management at the Chalmers University of Technology in Gothenburg but left the university in 2011. While it has been reported that he left Chalmers to focus on his YouTube career, in 2017, Kjellberg clarified that he left because of his lack of interest in his course of study. He expressed that, in general, leaving university to pursue a YouTube career would be "fucking stupid.
Family
He was born to Lotta Kristine Johanna Hellstrand, born 1958) and Ulf Christian Kjellberg (born 1957), and grew up with his older sister, Fanny. His mother, a former chief information officer (CIO), was named the 2010 CIO of the Year in Sweden. His father is a corporate executive.
Career
PewDiePie started his career on YouTube in 2006 under the name Pewdie. He was fond of shooting games at first so the name PewDie came from Pew from the sound of laser and Die from the name die. He stopped playing games after some time on YouTube and completely forgot his password so he made a new channel named PewDiePie in April 2010. PewDiePie was a massive gaming fan but most of the videos on YouTube were about places and cats so he decided to upload his gaming videos which were mostly horror videos. His amazing reaction and funny videos immediately started to create an audience on the platform as he slowly but steadily started to grow.
PewDiePie also started making gaming videos on popular games such as Minecraft and Call of Duty which was a massive franchise but not on YouTube so he started making lets plays of those games as well. After 2011 PiewDiePie gaming started to blow up as he become the fastest-growing YouTuber on the platform. His popular let's play of Amnesia: The Dark Descent amassed millions of subscribers. As he started to become more and more popular, PewDiePie started to host a podcast type of show known as Fridays with PewDiePie where he talked about his life and sometimes vlogged his holidays, his setup, etc. Just in the span of 12 months Felix's channel grew to over 450,000 subscribers and by the end of 2012, he has a million subscribers which seemed surreal to PewDiePie. Felix joined Machinima gaming studios but due to some complications, he switched to Maker a rival of Machinima.
PewDiePie already had over 5 million subscribers in the middle of 2013 but he was starting to face controversy due to his consistent use of the term rape in gaming videos. Felix apologized for his lack of awareness and promised never to use them again. Due to being the pioneer of YouTube Gaming, many new YouTubes see him as the mentor of YouTube gaming. He became the fastest person to have 100 million YouTube subscribers and currently has well over 10 million YouTube subscribers which place him at no 5 positions on the overall position ranking. PewDiePie also started collaborating with many channels, contributing to charity events, and opening up more about his life. He revealed, "Quitting University for Games was One of my Stupid Decision but it turns out to be the best decision".
Rumors/Controversy
The most concerning news, particularly for his fans, is about his channel Pewdiepie Shadowbanned and the reports of a strange issue with the channel.
The attempts of viewers searching PerDiePie failed on Youtube, simply his channel would not appear. Videos in the top results also tended to be from a year ago or longer.
Finally, Kjellberg posted himself on the community tab of his channel. He commented that his latest video apparently was not going to people's sub-boxes. Kjellberg did not return a request for comment.
Net Worth
What are the earnings of PewDiePie? How much is his net worth and How rich is he in 2022? He has accumulated a huge amount of net worth from her successful career. However, PewDiePie's net worth is $52 Million as of 2022 according to the source.
According to our analysis, Wikipedia, Forbes & Business Insider, Pranab Kr Nath's net worth is approximately $52 Million.
What does Net Worth mean? Net Worth is the measurement of financial health which indicates the value of an individual's or institution's financial and non-financial assets.
We heartily request you to contact us regarding the shortcomings you may find while visiting our site. Your feedback will be highly appreciated.