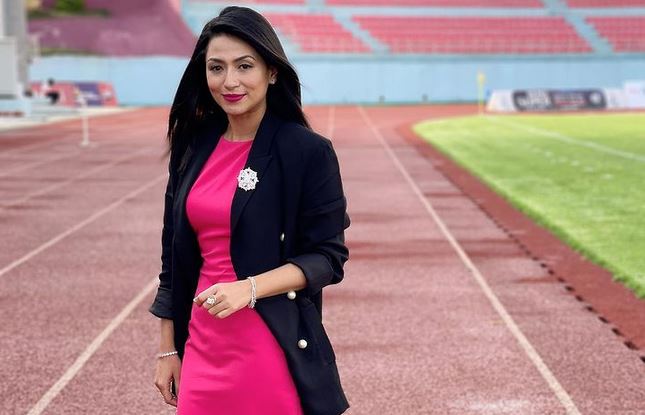 Follow Sahana Bajracharya:
Biography               
Sahana Bajrachaya was born on 15 August 1989 in the district Surkhet. Sahana Bajracharya is a popular Nepali model, Video Jockey, actress, and media personality. She is the winner of Miss Nepal Earth 2010.  Sahana has hosted Mega Model, a local version of America's Next of Model. Sahana burst into the media scene after Miss Earth 2010, However, before she took part in Miss Nepal,  She has battled to end the Chhaupadi cult which is extensive in the rural area of Western Nepal. A Chhaupadi cult is something that pressurizes women to be isolated during the menstrual period.
Height & Weight

Model Sahana is a beautiful woman with a 5'5"height and fit body figure.
Education
 She finished her schooling at St. Marry English School, Jawalakhel. She has done Bachelor in Arts in Media from Wigan & Leigh College.
Family
There is no known information about her family.
Career
Sahana Bajrachaya was working on the media before winning the Miss Nepal first runner-up in 2010. She began her career at Yugantar an interview-based talk shoe program way back in 2009. She then took part in the Miss Nepal beauty pageant and grabbed the attention of audiences and different business personalities. she was featured for Dabur Special. Sahana has been featured for other products such as Sprite, Pasupati Paints, Ganapati Jeweller, etc. She has worked in Image Channel, NTV Plus, and Kantipur TV as  VJ. Bajrachaya also has done a music video Manakamana Sachi Rakhi by Satya Raj Acharya. She said that this video was just for an experience. According to Sahana, she does not have any plan to continue playing other music videos.
Rumors/Controversy
There are no known controversies about Sahana Bajrachaya.
Net Worth
What is the earning of Sahana Bajrachaya? How much is her net worth and How rich is she in 2021? She has accumulated a huge amount of net worth from her successful modeling career. However, Sahana Bajrachaya's net worth is not revealed as of 2021 according to our source.
Sahana Bajracharya Facts
Sahana Bajracharya was born on August 15, 1989.
She was also a part of Miss Nepal 2008.
Even before the pageant, you were already a familiar face in the media circuit. But after taking part in Miss Nepal, she rose to fame even more.
Sahana Bajracharya is the first woman to be featured in TNM Magazine.
Q&A
When was Sahana Bajracharya born?
-August 15, 1989

Who is the husband of Sahana Bajracharya?                                                                                                    
-N/A                                                                                                          
What is the nickname of Sahana Bajracharya?
– N/A

What does Net Worth mean? Net Worth is the measurement of financial health which indicates the value of an individual's or institution's financial and non-financial assets.
We heartily request you to contact us regarding the shortcomings you may find while visiting our site. Your feedback will be highly appreciated.