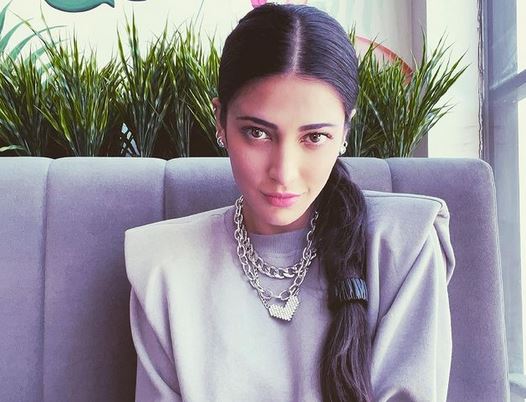 Follow Shruti Haasan:
Biography
Shruti Haasan was born on 28 January 1986. She is an Indian actress and playback singer who works predominantly in Telugu, Tamil and Hindi language films
Height & Weight

Indian Actress Shruti Haasan is a beautiful woman with a tall and fit body figure. Similarly, she stands at a height of 1.70m.
Education
She has studied at Abacus in Chennai. Then she moved to Mumbai to study psychology at St Andrew' College. Shruti shifted her focus to cinema and music, and travelled to the USA to continue to learn music at the Musicians Institute in California.
Family
She grew up in Chennai . Shruti has a mixed ancestry as her father Kamal is an Iyer from Tamil Nadu whereas her mother Sarika was born to a Maharashtrian father and Rajput mother. Shruti Haasan is the oldest daughter of actors Kamal Haasan and Sarika Thakur.
Career
Shruti started her singing career just 6 Years old. Song "Potri Paadai Ponne" from the film "Thevar Magan" in the year 1992. After she sang several movies she went to California for better education in singing. Shruti Haasan sharing her screen for the first time in Tamil-Hindi bilingual film "Hey Ram" in the Year 2000, Directed by her father "Kamal Haasan". She played the character in this film daughter of 'Vallabhai Patel's. She sharing her first screen sharing as a leading actress in multi starer Bollywood film 'Luck' in the Year 2009. Shruti Hasan debut in Telugu films in the year 2011 film named "Anaganaga O Dheerudu". Shruti Hasan has huge fans following actress in South Indian Films.
Rumors/Controversy
There are no known controversies about the actress and model of Bollywood Shruti Haasan as our source.
Net Worth
Indian Actress Shruti Haasan Net Worth is $7 million as of 2021 according to our source.
Shruti Haasan Facts
Shruti Haasan was born on

January 28,1986

When she was in school she used a fake name Pooja Ramchandran, because she doesn't want to live like a celebrity kid
On 20 April 2019, Shruti Ex-boyfriend Michael Corsale announced his breakup with Shruti Haasan on his Twitter account.
Times of India announced Shruti Haasan "Hyderabad most desirable woman" list of the year 2020. Shruti Haasan was the first position on the list.
Shruti Hassan Cousins are Anu Haasan and Suhasini Maniratnam both are South Indian Actress.
Q&A
When was Shruti Haasan born?– 28 January 1986
Who is the husband of Shruti Haasan?– N/A
What is the nickname of Shruti Haasan?– Kanna, Vendakkai
What does Net Worth mean? Net Worth is the measurement of financial health which indicates the value of an individual's or institution's financial and non-financial assets.
We heartily request you to contact us regarding our shortcomings you may find while visiting our site. Your feedback will be highly appreciated.