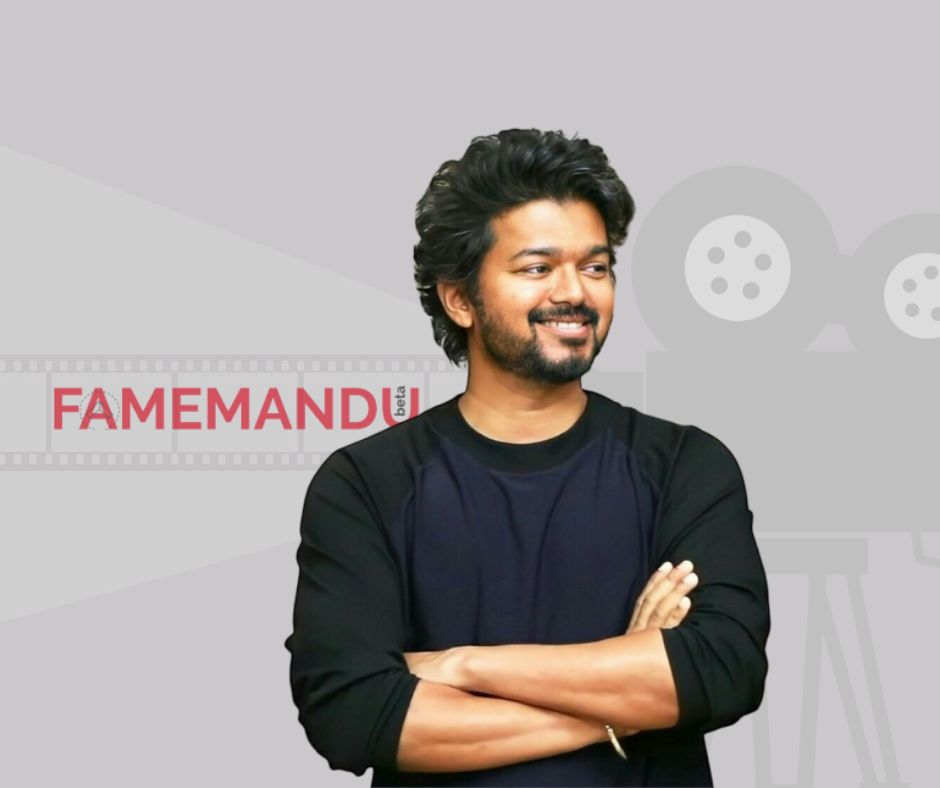 Follow
Quick Facts
Biography
Joseph Vijay Chandrasekhar, known professionally as Vijay Thalapathy, was born on 22 June 1974 in Madras (now Chennai), Tamil Nadu. He hails from a family deeply rooted in the Indian film industry, with his father, S. A. Chandrasekhar, being a prominent Tamil film director, and his mother, Shoba Chandrasekhar, an accomplished playback singer and carnatic vocalist. Vijay Thalapathy has since risen to prominence as a celebrated actor in the South Indian film industry, garnering a massive fan following for his diverse roles and compelling performances.
Height & Weight
Vijay Thalapathy, the renowned South Indian actor, stands at an impressive height of 5 feet 10 inches and maintains a fit physique with a weight of approximately 73 kilograms. His well-proportioned physique is highlighted by measurements that include a chest size of 38 inches, a waist of 29 inches, and biceps measuring 14 inches. With captivating brown eyes that exude depth and expression, complemented by his lustrous black hair, Vijay has garnered attention not only for his remarkable acting skills but also for his charismatic and striking appearance.
Vijay Thalapathy maintained fitness and appealing physical features have further contributed to his widespread appeal and established him as a prominent personality in the realm of Indian cinema.
Education
Vijay Thalapathy began his schooling at Fathima Matriculation Higher Secondary School in Kodambakkam, later transitioning to Balalok Matriculation Higher Secondary School in Virugambakkam. His academic journey led him to Loyola College, where he pursued a degree in Visual Communications. It was during this time, at the age of 18, that he expressed his aspiration to enter the film industry to his father, asking for his support in launching his career.
Family
Vijay, the renowned South Indian actor, tied the knot with Sangeetha Sornalingam, a Sri Lankan Tamil he met in the United Kingdom, on 25 August 1999. They are blessed with two children. Vijay's son, Jason Sanjay, even made a brief appearance alongside his father in the movie Vettaikaaran (2009). Additionally, his daughter played a small role as his on-screen pre-teen daughter in the climax of the film Theri (2016).
Career
Vijay Thalapathy embarked on his cinematic journey at the age of 10, making his debut as a child actor in the movie Vetri (1984). His first remuneration of ₹500 rupees was facilitated by the renowned actor and producer P. S. Veerappa. Subsequently, he showcased his acting prowess in several other films during his childhood, including notable titles like Kudumbam (1984), Vasantha Raagam (1986), Sattam Oru Vilayaattu (1987), and Ithu Engal Neethi (1988). Notably, he shared the screen with the legendary Rajinikanth in Naan Sigappu Manithan (1985). This early phase of his career laid the foundation for his subsequent rise to stardom in the Indian film industry.
Thalapathy's performance in the Vikraman-directed film "Poove Unakkaga" in 1996 is credited as the catalyst for his early success, marking a pivotal moment that catapulted his popularity to unprecedented heights.
In recognition of his outstanding contributions to the film industry, Vijay was granted an honorary doctorate from the Dr. M.G.R. Educational and Research Institute in 2007. This prestigious accolade served as a tribute to his remarkable achievements and influence in the world of cinema. Furthermore, his exceptional performance in the film "Mersal" garnered international acclaim, leading to him being honored with the 'Best International Actor of 2018' award in the United Kingdom. These accolades stand as a testament to Vijay's enduring impact and talent within the global entertainment landscape.
Vijay Thalapathy has been honored with numerous accolades, notably including the Osaka Best Actor Award and the South Indian International Movie Award. Notably, in 2023, he achieved the prestigious distinction of becoming the highest-paid actor in India, solidifying his position as one of the top-earning actors globally. His exceptional talent and widespread recognition have propelled him to the forefront of the entertainment industry, securing his place as a celebrated and influential figure in Indian cinema.
Rumors/ Controversy
Vijay, one of the most celebrated actors in the South Indian film industry, has not been immune to controversy throughout his career. One notable incident that sparked controversy involved allegations of plagiarism against the production of his film, "Sarkar" (2018). The movie faced accusations of bearing striking similarities to a story written by writer and assistant director Varun Rajendran, who claimed that the script of "Sarkar" was derived from his work without due credit or compensation.
Moreover, Vijay Thalapathy has faced political scrutiny due to certain dialogues and scenes in his movies that have been interpreted as critical of the ruling government. Notably, "Mersal" (2017), one of his blockbuster hits, faced objections from certain political quarters for its portrayal of certain governmental policies, leading to demands for edits and cuts.
In addition to these controversies, Vijay Thalapathy has also encountered criticism from certain groups for allegedly glorifying violence in some of his action-packed movies, raising debates about the impact of such portrayals on society and younger audiences.
Despite these controversies, Vijay's fan base remains steadfast, reflecting his enduring popularity and the fervent support he commands in the realm of South Indian cinema.
Net Worth
What are the earnings of Vijay Thalapathy?
How much is Vijay net worth and how rich is he in 2023?
As of 2023, Vijay, the esteemed South Indian actor, enjoys a remarkable net worth that places him among the wealthiest figures in the Indian film industry. With a successful career spanning decades, his net worth is estimated to be around $65 million. Vijay's significant earnings stem not only from his acting prowess but also from his brand endorsements, businesses, and various entrepreneurial ventures. His enduring popularity and widespread appeal have cemented his position as one of the most influential and highest-earning actors in the realm of South Indian cinema. Despite controversies and challenges, Vijay Thalapathy has managed to amass an impressive fortune, solidifying his status as a leading figure in the entertainment world.
What does Net Worth mean? Net Worth is the measurement of financial health which indicates the value of an individual's or institution's financial and non-financial assets.
We heartily request you to contact us regarding the shortcomings you may find while visiting our site. Your feedback will be highly appreciated.